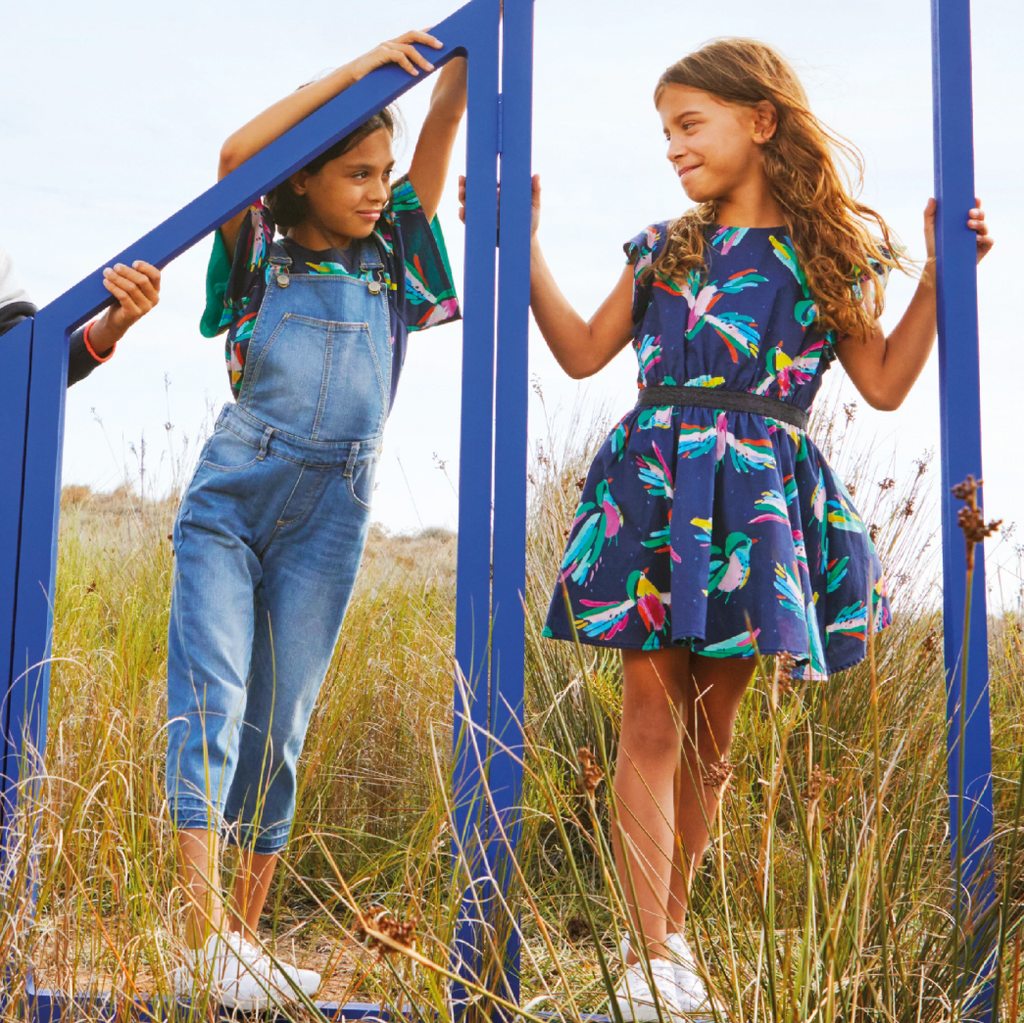 What are you thankful for in 2019? 
We at Catimini are thankful for the beauty and complexity of the world, and how it informs the art sewn into each article of clothing. 
From that world - in all its brilliant colors and vibrancy - designers find their inspiration. This year, our designers dove into a new direction of colors and graphic concepts inspired by their world to make art for kids. 
We're exploring the sun-drenched harmony of tropical palettes, applied to all walks of life. From hazy Sundays to high-tide, we think with the right set of sunglasses it can be summer everywhere.
We're thankful to present a bold new chapter in children's fashion - our new 2020 Spring and Summer Collection!
Catimini 2020 Spring & Summer Arrivals 
Tropicool 2020 
Exotic, daring, and brilliantly bold, Tropicool embodies summers on sandy beaches and deep jungle flora. Striking as clear blue waters, these pieces are designed for commanding attention in only a way nature knows how - deep, organic colors contrasted with sun-licked, exciting floral palettes.  
Baby Girls Fuchsia Long Sleeve T-Shirt
This blazing fuchsia long sleeve from our Tropicool Collection takes your little girl to the brilliant ocean depths. A 3-D meandering jellyfish and a relaxing bird will take all the attention in any fun summer look. 
Girls Navy Blue Bird T-Shirt
Give a girl wings and she will fly! This 3-D bird print shirt is all frills - soft ruffle sleeves and a gold glitter detail make this new piece from our Tropicool Collection a welcome centerpiece for any spring outfit. 
Girls Navy Blue Bird-Printed Jumpsuit
This jumpsuit from our Tropicool Collection is a true art piece from our new additions. Splashes of bright color assemble into whirling birds, and the glitter waistband and ruffled sleeves foretell impending thaw out of winter in brilliant definition. 
White and Navy Bubble and Leggings Set
Summer for baby is bold and bright! Our Tropicool Collection girls dress and leggings set is polished, prim, and poppy! An exuberant pink flower print - with a fun abstract bird perched on top - is all of spring and summer in a single piece. 
Girls Navy Blue Printed Leggings
Endlessly comfortable and breathable, these bright bird-print jersey leggings are made for lazy summer Sundays and soccer games in the park. Stretchable for comfort and breathability, you might have found your daughter's new favorite pants! 
See more Tropicool girls pieces here. 
Baby Boys Purple Short Sleeve T-Shirt
Springtime is about getting out and getting weird with this shirt from our Tropicool Collection. A slithery iguana and skateboarding frog lay atop a cool-toned mauve purple cloth - for the animal lover and pro-skater at heart.
Baby Boys White and Black Long Sleeve T-Shirt
A little bit funky, a little bit French! This white and black striped shirt from our Tropicool Collection features an abstract zebra iguana print for an interesting, over-patterning effect.
Baby Boys Green Tropical Romper
Make way for the jungle explorer! This green-tone boys romper from our Tropicool Collection is emblazoned with cute flora and fauna for extreme camouflage, and 100-percent cotton for extreme breathability. 
Baby Boys Moss Green Alligator T-Shirt
This two-sided print t-shirt from our Tropicool Collection is wrapped in gator goodness! This moss-green cotton shirt is great for days at the zoo, or rolling around in the woods looking for adventure!
Baby Boys Hooded Cardigan
One of our signature hoodies from the Tropicool Collection, this piece is loud, proud, and endlessly cool. Stark white-and-black construction holds our name proudly in artsy, animal-inspired lettering!
Boys Heather Grey Bermuda Shorts
These durable terry-cloth bermuda shorts from our Tropicool Collection are everything your little man needs for day trips and road trips. This pair features breathable fabrics, logo strip, and a distinctive Catimini "original design" badge on the back pocket.
Boys Black Long Sleeve T-Shirt
For a neon, west-coast vibe, this black long-sleeve shirt from our Tropicool Collection is breathable enough for active young men, and stretchy enough to pull back the sleeves for video game sessions with friends. 
Boys Heather Grey Hooded Sweatshirt
This hooded sweatshirt is a street-style take on our Tropicool Collection. Bold print draws the eye, while durable construction keeps young men comfortable all springtime long. 
See more Tropicool boys pieces here.
Nouveau Rouge by Catimini 2020 
Conceived with a passion only a deep sanguine can achieve, our Catimini Rouge collection is equal parts classy and jaw-dropping. Color speaks louder than shape, with exceptions for newborn and baby clothes - loaded with luscious fruits loaded with personality.
Catimini Rouge - Girls
Baby Girls White and Red Dress
Our refreshing newborn dress and bloomer set puts a little spring into our bold Rouge by Catimini Collection. Crunchy apple prints of red, pink, and pearl make this set pop - the snap-on buttons and stretchy elastic waist make it comfy! 
Baby Girls White Apple-Knit Cardigan
This cozy 100-percent cotton cardigan from our Rouge by Catimini Collection celebrates the fruits that make us smile. A spry crunchy apple amid stark white makes this piece at home on the playground, and over a party dress. 
Baby Girls Pink Short Sleeve T-Shirt
A crunchy apple shirt as cute as your little girl! This dark pastel pink t-shirt from our Rouge by Catimini Collection features a custom shoulder snap, and a graphic print of "Croquante" meaning "so cute!". 
Girls Red 2-in-1 Dress and Skirt
Speaking of being proud, this blazing red dress-skirt combo from our Rouge by Catimini Collection is equal parts fancy party dress and dance all-nighter! A cute snack print and bold plain red top is split with a sparkly waistline for a neat and snug fit. 
Girls Midnight-Blue Printed Dress
The snack prints of our red dress-skirt combo get the bold treatment on this smock dress from our Rouge by Catimini Collection. Reimagined in red and blue - amid a stark midnight-blue backdrop - this is a dress that demands attention.
Girls Midnight Blue Printed-Leggings
The retro fruit print - same as our dress skirt and smock - takes on new form with these breathable and comfortable leggings from our Rouge by Catimini Collection. The striped metallic waistband adds just enough glitter to make it girly.  
See more Rouge by Catimini Girls pieces here.
Catimini Rouge - Boys
Boys Red Bermuda Shorts
A bold splash for bold young boys! These red bermuda shorts from our Rouge by Catimini Collection are perfect for a warm formal gathering. Toss in the elastic waistband, and you have some of the most comfortable shorts your little man will ever wear. 
Boys Red Pique Polo
Bold and sporty, this pique polo shirt is at once casual and brazen. Built from 100 percent breathable cotton, it's perfect for spring walks with pants, and summer beach strolls with shorts. 
Boys Beige Denim Joggers
A special construction of denim make this pair of joggers perfect for energetic spring and summer adventures. A subtle Rouge accent gives space for beige, a wonderful color to match any style.
Boys Deep Navy and Rouge Bomber Jacket
Sturdy construction and a wealth of design textures make this boys bomber jacket endlessly appealing. A removable hood offers additional customizability, and coated fabric makes it great for spring showers. 
Heather Graphic Sweatshirt
The house-designed veggie pattern is fun and endearing, while the striped cuffs and hemline give definition to this graphic sweatshirt. Endlessly soft and comfortable, your little man will never want to take it off!  
See more Rouge by Catimini boys pieces here.
Fresh Safari Living Looks 2020 
From the deepest reaches of the Sahara, sun-drenched yellows are uplifted and balanced with the brilliance of a toucan's thrilling palette. The collection's arresting combinations truly pop, commanding attention in any occasion.   
Safari Living - Girls
Girls Flower Printed Fashion Leggings
Live loud, bold, and proud with these fashion leggings from our Safari Living Collection! Your little girl will roar in these artsy, enlivening splotches of sunny yellow, tomato red, and contrasting pastels. 
Girls Golden Short-Sleeve T-Shirt
The sun is calling - it wants its glow back! This bright and spritely cheetah-print t-shirt from our Safari Living Collection is rendered with Catimini's signature artistic touch. Goes best with some cool sunglasses! 
Girls Floral Jumpsuit
A white, breathable cotton voile jumpsuit is the canvas for a breathtaking array of exotic flowers, while an asymmetrical ruffle adds a splash of jazz. Gold glitter snaps maintain the shape of the v-neckline, and the breathable material provides lasting comfort under the sun. 
Girls Toucan-Printed Dress
Naturally conspicuous, our house-designed toucan print is unapologetically refreshing on this comfortable, light cotton dress. An embroidered sleeve offers welcome definition and depth for this everyday-dress. 
Girls Yellow-Dotted Swiss Pants
Comfortable for any occasion, this sun-kissed pair of dotted Swiss pants is lightweight for traversing the Serengeti and lazy summer Sundays. A simple dotted design makes them perfect for uplifting any outfit, while bottom cuffs and pom poms offer an added touch of style. 
See more Safari Living girls pieces here.
Safari Living - Boys
Boys Leafy Print Bermuda Shorts
Our designers took special liberties with this piece - a mesmerizing leaf print unloads bountiful texture to both plain and loud tops, and an adjustable inner elastic waist begs your little man to hop off the jeep and into the golden plains. 
Boys Hippopotamus Graphic T-Shirt
Bold, simple, and built of breathable and natural cotton, this graphic t-shirt is a friendly reminder that hippos are best observed from a distance. Best to pair this shirt with comfortable bermuda shorts, or straight denim in colder months. 
Baby Boys Embroidered Short Overalls
The canvas-like, beige-ivory cotton material deflects the heat for playtime. Suspenders stretch to maintain shape on your little man, which also offers additional comfort for crawling around the golden, sun-drenched plains. 
Baby Boys Printed Animal Shorts
Monkey me, monkey you! The soft cotton material belies ferocious and gritty chalk-like monkey design on these printed animal shorts. The elastic waistband offers durable comfort for all manner of safari journeys, on the plains of Africa or in your backyard. 
Baby Boys Animal-Print Joggers
Perfect for cartwheels and stalking their prey, these animal-print joggers feature a full wash of Safari Living color. A striped elastic band and durable drawstring means thrilling adventures all spring and summer long. 
See more Safari Living boys pieces here.