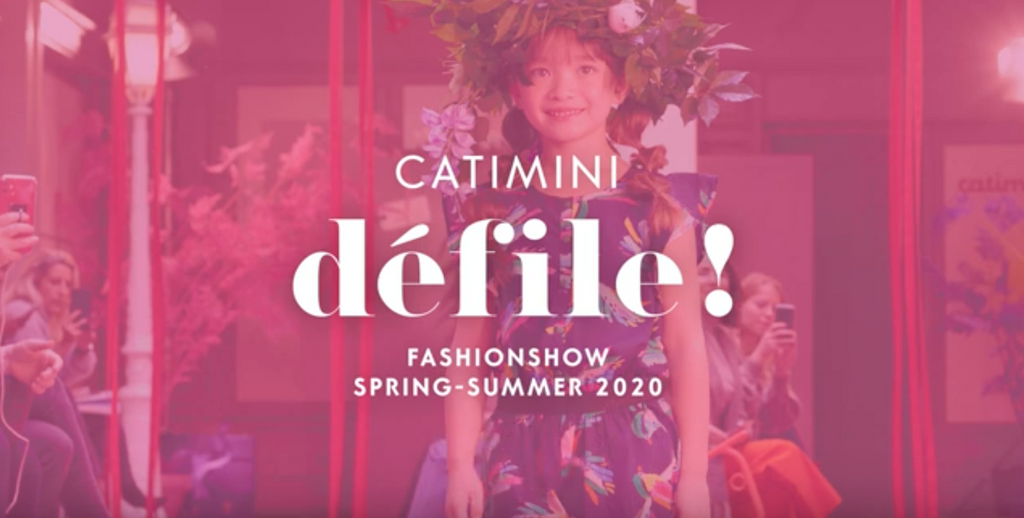 Our brand new line of spring and summer styles has arrived, and we've got a special surprise for you!
Our Catimini 2020 Fashion Show was a hit, where we rolled out tons of beach-worthy styles and casual warm-weather looks for all manner of play. 
This year in boys clothing, our designers focused on fun and functionality, with a special tip of the hat for the skater boys and daredevils in all of us. Oh, and we didn't forget the beach bums either!
In girls clothing for 2020, we bring poppy and popping out front and center with fresh new graphic designs, and tons of new soft denim pieces to add warmth to any and all summer looks. 
We couldn't have done it without the work of our designers - veritable artists of their craft drawing inspiration from the beach, the city, and the energy which ignites the spirit of play in children all around the world. 
Our models - as diverse as the world we design for - give each of the 11 featured looks below a character of their own. But, all of Catimini's clothing is crafted with a European aesthetic suitable for children from both sides of the pond.
Glamour Galore in 2020!
Our new girls styles explore the balance of elegance and graphic-inspired fun! From girls dresses and jumpsuits to skirts and overalls, spring and summer for Catimini girls is looking quite poppy!
A poppy, light-hearted spring look
This young lady sports a two-in-one t-shirt and dress combination set. The soft-denim dress blocks out a cherry-printed shirt that balances pop and sophistication as a perfect baby girl's birthday party outfit or her first day at daycare. 
Add a dash of cozy with a pink-toned apple jacquard cardigan from our Catimini Rouge collection.
https://catiminiusa.com/products/ss20-baby-girl-t-shirt-and-dress-set-cq30023-46
Spring Breeze, and Summer Dreams
It's a classy, modern take on a post-war look. She wears our bird-printed jumpsuit from the Tropicool Collection. Vibrant, multi-depth pastels whirl around in exotic bird shapes above and below a comfortable elastic waistband. Ruffled sleeves add an additional touch of spring and offers an interesting symmetry to the entire look. 
Pair with our Tropicool straw hat, featuring an exotic ribbon bow to complete that "sunny vacation" look.
https://catiminiusa.com/products/ss20-kid-girl-navy-blue-bird-printed-jumpsuit-cq32005-88
"I'll take savannah with a side of sun!"
She boldly displays our beige giraffe short-sleeve shirt featuring an original cartoonish design from our in-house designers. Paired with our sun-licked yellow jacquard cardigan, this outfit will brighten dreary April showers, and uplift any bright summer yard party. 
We love completing this outfit with dark blue jeggings for added comfort and mobility. They add a definitively "American" element to this spritely European look, perfect for traversing Parisian boulevards or goldenrod savannahs. 
https://catiminiusa.com/products/ss20-kid-girl-heather-mother-of-pearl-giraffe-short-sleeve-t-shirt-cq10135-13
Poignant, artistic, and endlessly comfortable
Healthy snacks get a retro treatment with this deep blue printed dress from our Rouge by Catimini Collection. A metallic elastic waistband keeps her looking form-fitted, establishing an attractive and bouncy shape, and the v-neck is perfect for her favorite fun necklace.
Complete the look with a matching pair of printed leggings for a bold, graphic visual attack. 
https://catiminiusa.com/products/ss20-kid-girl-midnight-blue-printed-dress-cq30055-88
A romantic, artistic, and classy spring pop!
This lovely sports a truly romantic graphic-printed, sleeveless dress - an iconic piece of our Rouge by Catimini Collection. A comfortable elastic waistband only holds the dress' shape, leaving ample mobility for enjoying all of Spring's outdoor bounties. 
For the colder spring snaps, couple this piece with a sporty Rouge denim jacket emblazoned with the Catimini "POM" logo and brilliantly rouge red buttons. 
https://catiminiusa.com/products/ss20-kid-girl-red-printed-sleevless-dress-cq31265-36
A farmer's look for playtime and poetry
These fitted girls overalls offer her complete comfort inside and outside. The cuffed hems give the whole shape definition, and the glitter-red buttons add a poppy accent - the cotton blend also lends to extra breathability, while the elastic straps keep the piece in place. 
We love seeing this piece paired with our apple-printed POMPOM shirt. The crispy fruit print adds even more child-like joy to make a perfect late-Spring and Summer look. 
https://catiminiusa.com/products/ss20-kid-girl-indigo-short-denim-overalls-cq21005-46
Take me to the park!
This little princess sports a cozy, comfortable, reversible bunny-graphic cardigan equally perfectly suited under a raincoat and in sunny, rolling park landscapes. The neckline is designed to have the polka-dot buttons in the front, and in the back.
Complete the look with a flower-printed, navy blue skirt with an elastic waistband for twirling, tea parties, and running around in the open air. 
https://catiminiusa.com/products/ss20-baby-girl-white-front-and-back-stripped-cardigan-cq18033-01
Bold Boys in 2020
In spring and summer of 2020, boys get down with their sporty selves, while also celebrating more refined styles. Regardless of the piece, we've designed our new boys clothing lines with fashion, frontiers, and feverishly contagious fun in mind. 
It's a Jungle Out There!
This young man sports an over-the-top volume of colors and shapes with this long-sleeve jungle-print shirt from our Tropicool Collection. A rounded hemline opens up this piece for a casual, un-tucked look.
Outfit your young man for adventure with a pair of graphic-printed, breathable, and comfortable black joggers for running around and exploring - perfect for outrunning panthers and tigers!
https://catiminiusa.com/products/ss20-kid-boy-green-long-sleeve-camouflage-shirt-cq12014-13
"Put me in the rink, coach!"
This bad-boy on wheels sports a mauve-purple cotton t-shirt emblazoned with a zany iguana graphic, a signature design from our Tropicool Collection. Slim-fit for that definitively "cool" look, it was imagined for outdoor playtime and indoor puzzle games during April showers. 
We suggest pairing this baby boy t-shirt with a high-volume pair of exotic, jungle-print cargo shorts to embrace the summer in the wild, and at home. 
https://catiminiusa.com/products/ss20-baby-boy-purple-short-sleeve-t-shirt-cq10002-83
Hanging at the Halfpipe
Our model hangs ten in this eye-catching mauve t-shirt featuring an eccentric skateboard design - imagined by our in-house designers for daredevils at heart. Fitted and with a prominent crew neck, this is a sturdy piece for taking on the tarmac. 
Pair this piece with a pair of brilliant bermuda shorts to build a summer style, or a liberating pair of beige denim joggers for a cool street look.
https://catiminiusa.com/products/ss20-kid-boy-purple-short-sleeve-t-shirt-cq10054-83
A Summer Look for Breezes and Beaches
This little dude sports a blazingly loud jungle-print t-shirt featuring a prominent black crew neck hemline with a special added touch to make it easier for mommy and daddy - a button for simple, quick dressing.
Bring this light shirt into colder early-spring days with this printed sweatshirt from our Tropicool Collection. 
https://catiminiusa.com/products/ss20-baby-boy-light-green-short-sleeve-printed-t-shirt-cq10022-52
A skater or a watermelon?
This fun little boys t-shirt features a skating watermelon asking a truly important question - is he a skater, or a watermelon? Or, a watermelon skater? The slim fit offers a clean and cool look, and breathable cotton makes this piece breathable and flexible. 
We love seeing this look completed with these abstract jungle-print beige shorts for an additional touch of fun and volume. 
Fruits just wanna have fun, too!
Your little man can hop on the halfpipe with this speedy fruit-print polo shirt. Fine-threaded cotton offers breathability and comfort, and the fashionable lined collar lends a subtle accent perfect for interesting matches. 
One great pairing for this piece are our craft-denim bermuda shorts - faded and endlessly comfortable, he'll love spending hours outside with friends, or lazing in the sun with a good book. 
https://catiminiusa.com/collections/work/products/ss20-kid-boy-heather-grey-speedy-veggie-short-sleeve-pique-polo-cq11014-19
The biggest little roar!
Every little boy has a lion inside them, and this bright, poppy lion t-shirt features a house-designed print for a roaring good time. The colored collar offers a contrast that slims the neck and places emphasis on their money-maker! Plus, shoulder snaps are perfect for easy dressing!
Consider pairing this piece with our new blue-waisted joggers. They're stretchy for all manner of jungle adventures, and their breathability is perfect for hot summer days and spring cold snaps. 
https://catiminiusa.com/collections/work/products/ss20-baby-boy-yellow-tiger-t-shirt-cq10062-72