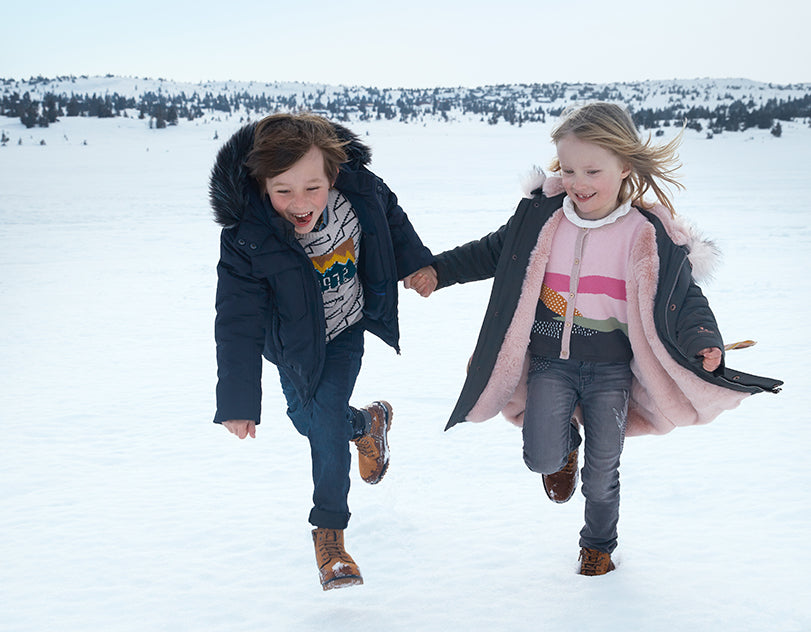 It's that time of year again, and if you haven't gotten a winter coat for your child yet, check out what we've got at the Catimini Coat Shop!
But, if you're just looking for guidance on finding the right winter coats for children, you're also in the right place. While our racks of coats are long, the list of facts about winter coats inspiring our French-inspired designs is even longer! 
After reading, you'll better understand several points about winter coats for kids: 
What makes a good kid's winter jacket?

What's the best material for winter coats?

Is polyester warmer than cotton?

Is polyester warmer than wool?

Ideas for girls winter jackets

Ideas for boys winter jackets
From the studio worktable to your child's next outfit, Catimini believes, tend to agree with Socrates when it comes to clothing: 
"The unexamined life is not worth living." - Socrates
That's why we're here - because it's your kids, and what they wear matters. Especially if it's stylish!
What Makes a Good Kids Winter Jacket?
If you're old enough, you might remember being bundled up so tightly that, if pushed, you might just roll down the icy streets of your neighborhood like a big, woolen ball. 
Today, children's winter wear is a much finer market than it used to be, and better designers are making craft children's clothing with more affordable brands. Sometimes it can feel like the choices are endless, but there's really just three basic principles to choosing a winter jacket. 
Is it Warm in All Conditions?

- Above all, winter jackets and coats need to be warm in

all conditions

. Polyester and polyester-blended materials are often water-resistant or water-proof, meaning that the winter coat in question will stay dry and warm for longer. 

Is It Comfortable?

- Like some of our snowbound childhood memories, winter clothing can be bulky. Especially for small children, a winter jacket can feel like a suit of chainmail. 
Finding the right fit is all about identifying your child's average age height. For instance, if your little girl is a few inches taller than average, she potentially could fit into an older child's coat. 
Is It You?

- This is a luxury item of the list, but you really do spend a lot of time in winter jackets. Your child will be walking around in the same couple of coats all winter, and if they have the opportunity to be a little creative, let them! More customized, high-design brands offer more nuance in their products than chain stores. 
What's the Best Material for Winter Coats?
Winter coats are made of all types of materials. Puffer jackets, like our abstract print puffer jacket, are lined with microfleece, a warm and insulating material best coupled with a heavy, cozy sweater. 
The options for good winter coat materials isn't limited to fleece. Polyester is a versatile material that, in some cases, sees several applications in one garment, like our reversible deer parka.
Polyester finds itself in the lining, padding, and the white faux fur inner - which also can be worn on the outside for a truly "snowblind" look.
Is Polyester Warmer Than Cotton? 
Polyester is a material that dries very quickly, and offers better insulating properties than cotton. 
Is Polyester Warmer than Wool?
Wool is in fact warmer than polyester. With better insulation, and often being cheaper to make, childrens' coats for winter are well equipped with wool. 
Wool, whether in blends or as a standalone fabric, is coarse but extremely warm. It's no wonder that people have been using it in winter coats for centuries!
Designers at Catimini dove deep into using wool, typically a rough material, into an element of finery. Our houndstooth wool blend jacket combines centuries of European history - houndstooth actually originated in Sweden in about 100 B.C. in fact! - with piped pockets paying homage to a classically-French, continental style.
Now that you know some more about winter coats, scroll this preview of our Coat Shop!
Here is our full online catalogue!
[NOW OPEN] - The Catimini Coat Shop
Collection Feature: Winter Coats for Baby Girls and Toddlers
Fuschia for a dramatic change of pace. 
Water-resistance is everything for winter jackets, and the lining of our Dear Oh Dear! Fuschia puffer jacket is durable, dry, and daring! 
Thick enough for a walk in Central Park, light enough for all her little journeys ahead. Matching mittens make for a complete and bold look. 
Meow 'til the cows come home
Abstract and subtly feline, our Raining Cats and Dogs Black & White hooded puffer jacket is a baby's coat built for the elements. 
Crafted with fine, durable, and water-resistant polyester - with pockets that double as duo-tone mittens. 
Collection Feature: Winter Coats for Kids and Girls
Bring a little art to the holidays
Make an impression this holiday season with this bold and abstract puffer jacket from our Catimini Rouge collection - a kid's red jacket for the holidays playing with visual texture to make an impression.
The high collar offers additional protection against the elements, while the microfleece lining keeps the cold out and the fun in. 
A camel wool jacket that won't desert
A timeless winter jacket for girls crafted with a majority-wool blend to preserve the fabric's tactile qualities while achieving a fine texture and added warmth. 
The marshmallow-pink pom poms - a decidedly 18th-century French element - uplifts their entire outfit for a bold and reserved look. 
Collection Feature: Boys Winter Jackets and Coats
Built tough for boys to kick around
Our coated, deep navy bomber jacket is designed for snowbound fun. Your little muffin will rollick in through snow, Christmas shopping, and the midnight New Years toast in this jacket - if you let them!
The Deep Navy Bomber is specially built for extended outside wear. If you're planning any outdoor activities this winter, grab yours!
Traditional materials meet edgy design
The Rouge by Catimini Collection's wool-lined parka combines the cold-resistance and insulation of wool with a sleek and pillowy feel.
Double-fastening with a zipper and buttons, and pockets for carrying snacks and allowances - make this a perfect winter parka for kids and boys - wherever their snowy destinies take them!
Collection Feature: Winter Coats and Jackets for Baby Boys and Toddlers
Did you know llamas stay warm year around?
You too can summon the winter-resistant powers of the llama with our color-block faux fur Llama-mazing jacket!
A cozy, wooly feel makes this jacket great for outdoor adventures, naptime, and everything else in between - with pockets!
Classic and conspicuous for the holidays
Our full polyester baby boys jacket uses one of our favorite colors from the Llama-mazing Collection to its fullest extent. Bold and bright like your little muffin's personality, you'll never lose him in knee-high snow!
Haven't found what you're looking for? See what other French-inspired winter coat designs for boys and girls (and plenty of gender-neutral options) at the Catimini Coat Shop.