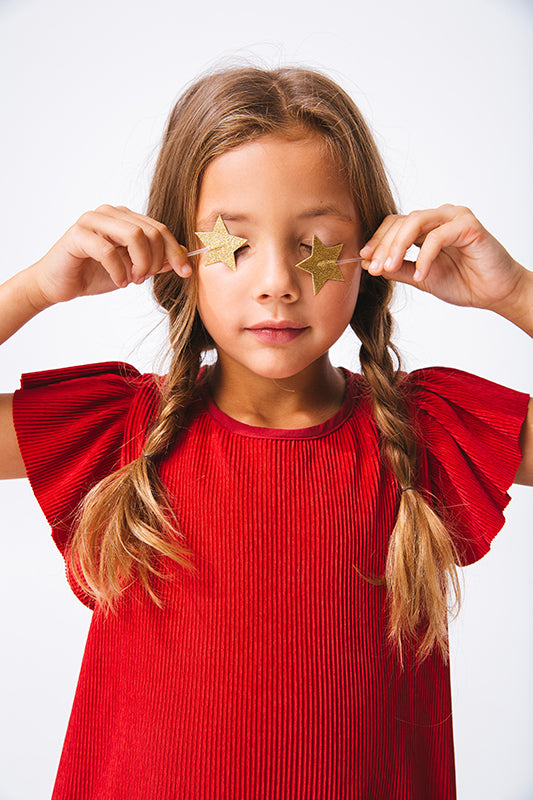 The holiday season is upon us, and there's much ado about getting ready. 
Christmas is coming up, with New Years right behind. Hanukkah, Kwanzaa, and so many many international, religious, and personal family traditions fill our lives with joy, community, and hopefully some great photo ops!
But, you're a parent and feel the holiday season is overwhelming. Or, you just can't decide what to do about holiday outfits, where to take that perfect holiday photo, and whether family pajama parties are worthwhile. You'll find out about all that below!
Stay calm, and enjoy yourself
Family is what makes the holidays special, and it's what we miss most when we're away. So, when you have even just a few moments with your family this holiday season, treasure the opportunity. 
Don't sweat what baby clothes are best for family photos. Make sure that whatever this holiday season brings - watching family holiday movies on a Saturday night, or using that Christmas family vacation package you bought last Spring - you savor it. 
To help you make your holiday season more festive, we've put together a list of great ways to truly relish this time of year for what it truly is - a magical time to look good, do good, and be good for Santa! 
From our family to yours, we at Catimini wish a holiday season of wealth, health, and wellness to all. 
Family Holiday Photos - What To Know
If there's one present the whole family can enjoy from the holidays, it's family photos.
Holiday pictures are those tokens we carry from the moments that touched us most. Family holiday photos of your children or playtime are certainly worth more than a thousand words - they're priceless. 
On the search for family holiday photos? Don't sweat it - there are tons of photographers in your community who have specials for holiday shoots. 
How to Take Better Holiday Photos
Taking good holiday photos is more than just standing around waiting for the flash in your best holiday get-up.
It's expressing the joy the season brings to the family, and to the individual. Holiday photos are an opportunity to use the beautiful scenery and intricate decorations everywhere for pictures rife with the bold colors of the holiday season. 
What Are The Best Colors to Wear for Holiday Family Pictures?
Green. Red. Gold. Silver. White. These are the traditional colors of the holiday and they are what breathes life into the scenery, the chimney, and your tree. 
Toss in a little black, as a design border or as the central elements of a holiday outfit, and you have a distinctive, polished look for the holidays. 
No matter what tradition you're celebrating, common color schemes come together to identify what truly, characteristically screams "holiday." Holiday dresses, family holiday pajamas, and holiday outfits for kids and babies are dominated by these colors.
Baby Clothes
Babies are dressed to be adored in red and deep navy this year. Bold colors make them the heart and focal point of holiday celebrations - perfect for pictures with grandpa, grandma, or the whole family! 
Holiday Dresses
Dresses will never be out of style, any season of the year. With one of our many pairs of festive- and artistic-print tights, any day can be Holiday Dress Day. 
This classic red velvet dress from our Magic Moon collection brings sophistication, fun, and a bit of cloudy "pop" to a girl's holiday look.
Holiday Outfits for Kids
The combinations are endless when we're talking about holiday styles. All you need to worry about is three questions:
Is It Warm? Above all, safety is the primary concern for dressing your child for winter. Always dress warmly, because you can always take clothing off to cool down. 
Is It Comfortable? Holiday clothing sometimes has a tendency to be bulky and hard to move around in. The perfect holiday outfits are warm, insulating, and comfortable.
But Maybe You Aren't a Typical Family
Rules certainly are meant to be broken, aren't they? Sometimes it's not the color, but the design, that screams another kind of "holiday". Something just a bit … "different."
Baby Clothes
A different take on holiday baby clothes! Think "Christmas Panthers" instead of Santa's reindeer, with a similar color scheme. Who says panthers can't celebrate the holidays? 
Take a traditional but stylish route to holiday smiles with this Panther Print Dress/Skirt Combo, Panther Print Fleece Joggers, or Panther Print Dress from our Rouge collection. 
Holiday Dresses
For a distinctive family photo, something that breaks through color or style conventions can give your child a distinctive seasonal look, this is a daring, bold, and beautiful choice.
Holiday Outfits for Kids
A pair of pants, a skirt, and a top can mean so much during the holidays, and the same old colors and designs won't cut it. The colors in our clothing collections will make your family holiday photos pop. 
This Heather deer pattern jacquard dress is a sweet way to celebrate.

For A Christmas Dress with a Swing
Whatever your Christmas dress wishes, bringing a bit of art into the look can really bring out the creativity of the holidays.
Bring a little art into the holiday dress with our Rouge Collection's
Graphic Jacquard Sweater dress. Elegant and warm for family photos, but with an artistic edge for distinction.
Holiday Photo Ideas for Dressing Up
Finding inspiration for holiday photos is hard. Holiday photos are everywhere, and sometimes it feels like everything's been done. 
Choosing the right baby clothes for a photo shoot comes down to choosing what you love, and what you want to say. Do you want to make a more traditional statement, or something loud or stylish to mix things up? 
As long as you find what you love and know how you want to express it, the options truly are endless.
Baby Boy Holiday Outfits
Baby boy can be comfortable this holiday season. Often for babies, comfort comes before anything else.
But if you're looking for baby clothes for boys that bring a pop to your little guy's festive outfit, try this cloudy-soft cotton check shirt for an adorable lumberjack look.


Baby Girl Holiday Outfits
There's nothing more distinctive than a crisp button-up jacket. A perfect compliment to a baby Christmas dress, this red coat with faux fur hood will keep your baby girl warm for the holidays. 

Girls Holiday Outfits
Holiday dresses for girls are good only once a year, so make it count. For a classic look, try on this eye-catching, classic green velvet dress from our Llamamazing collection.

Boys Holiday Outfits
Does your young man have a photoshoot coming up? This could be a chance to have a truly classy holiday photo of your little guy with this deep navy suit jacket. Perfect with a warm sweater for Church, Synagogue, and all the holiday cheek-pinching!



Family Christmas Photo Shoot Ideas
Family Weekend Getaway!
Are you on a family weekend getaway? A quick vacation to truly enjoy the beauty of winter? Use this as an opportunity to have a holiday photoshoot amid breathtaking scenery and warm fuzzy feelings. 
Family Pajama Party!
Family jammies have been a thing for years, but there is no better way to add a comedic twist to holiday photos than in your holiday cozies! Plus, a family pajama party photoshoot is a perfect reason to dress baby in something funky! 
Pictures with Santa
Ahh, the Santa picture. Almost all of us have that one bad picture with Santa, but the overwhelming majority of Santa pictures are tender moments with tradition.
If you're asking yourself, "Where can I find pictures of Santa near me?", then we've got you covered. See the link at the bottom of the article. 
For whatever brings you holiday cheer this season, just remember to have fun, be safe, and enjoy the little moments you'll share with family and friends.