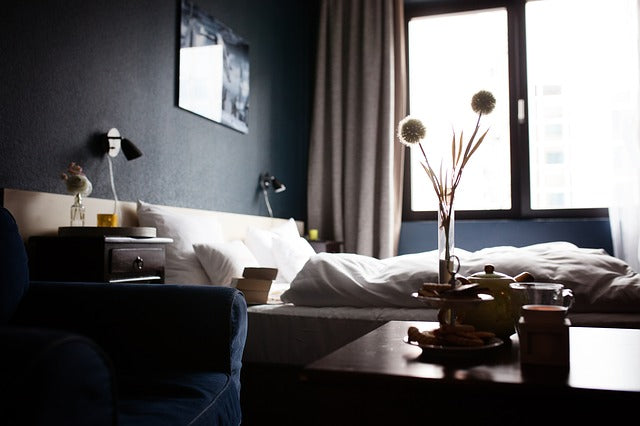 For your little ones, not just any old dusty hotel will do.
With all the options for hotels out there, it should come as no surprise that there are in fact hotels specifically designed for the child-centric experience. And, as every parent knows, traveling is hard with children - finding any possible way to make the experience more fun for them is always a plus.
If you're taking a cross-country trip or globetrotting with the family, unpacking your belongings in a themed hotel for kids will set their eyes alight and usher in squeals of joy that any parent cannot help but fall in love with.
As a mother who travels often, I try my best to find at least one destination where we'll have the chance to stay at a fun hotel for kids. Take it from me - for children, stepping into a cool hotel designed for them is about as exciting as Disneyworld (keep reading for my favorite hotel when you're actually going to Orlando!).
Without further ado, I give you my top five picks for the best hotels for kids. Have you been to one of these destinations? Leave a comment below!
Brookstreet Hotel - Ottawa, Canada
Perfect for Mom, Dad, and the little ones
Book Here.
If you're heading to Ottawa - a beautiful and modern city with plenty to offer for both children and adults - do not pass up a chance to stay at the Brookstreet Hotel.
This stunning complex is classic on the outside, futuristic and chic on the inside. And, it has a mini golf course! This hotel with kiddie pools has free bikes to explore, making for a veritable adventure on your hands!
But these aren't the best amenities. What sets the Brookstreet Hotel apart from other destinations is the "jazz garden." Loaded with instruments available for children to experiment with, your child can explore their creative side with a wide selection of musical outlets and potentially discover a new passion!
For the classic jazzman at heart, this polo shirt with music print on the back completes the look!
Loews Royal Pacific Resort at Universal Orlando Resort - Orlando, Florida
For dinosaur lovers and anyone making a trip to Disneyworld
Book here.
Taking the plunge to Disneyworld? Checking out Orlando Studios to give your child the gift of cinematic overload? Don't pass up the Loews Royal Pacific Resort!
Kid's Camp is offered at an hourly rate where your children partake in supervised group activities while you enjoy the adult-appropriate entertainment (bars, golf, and more). In the Islands Dining Room, a Bali-inspired playroom transports the tikes to a far-off destination, while a child-friendly buffet serves up all kinds of treats made just for them!
The hotel room amenities are the prime example of the perfect "theme hotel for kids." If your child is a fan of the Jurassic Park franchise, the Jurassic World Children's Suite features an open-air dinosaur backdrop, themed bedding, and a wall-to-wall map floor to inspire future adventures!
No little adventurer's mess pack is complete without this red raincoat!
The Plaza New York - New York, New York
Classically New York, impossible to pass up for fans of "Eloise"
Book here.
Kay Thompson's Eloise series of books have been inspiring little girls for generations. For those very girls, the Plaza New York - an iconic mainstay for over 100 years - was made just for them!
The Eloise Suite features a stunning zebra-print carpet and pink-striped walls - just like the books! Once they've taken in the sights, bring them to The Plaza's Eloise Shop for all types of accessories Eloise-themed.
Taking it to the next level, your Eloise-obsessed child can enjoy a themed afternoon-tea service, with all the dressings for a true Eloise experience!
This gold shirt dress is perfect for a chic New York outing!
The Milestone Hotel & Residences - London, England
A stunning example of true royal pomp and circumstance
Book here.
If London is your destination, do not sleep on the Milestone Hotel & Residences.
This hotel gets everything right about having a baby. Perfectly-sized bathrobes and slippers for all ages of little ones are available, along with baby monitors for every family suite. Plus, every single child receives a teddy bear, some chocolates, and a book loaded with bedtime stories available each night at bedtime.
For the princes and princesses in the home, a mini-Royalty-themed tea-time, complete with tiny finger sandwiches and itty-bitty teacups will wrap your child in the royal treatment!
For the proper English gentleman, this navy suit jacket is dripping with blue-blood class!
Ashford Castle - Cong, Ireland
An 800-year-old classic Irish Castle on over 300 acres
Book here.
This is perhaps one of the most fun hotels for kids, especially if they love Legos!
This 800-year-old castle is the epitome of old-Irish, rustic charm. With hundreds of acres of land for the tikes to play around - and loads of classic interior decorating offering an immersion into medieval times - Ashford Castle is part playground, part history lesson.
Now let's get to the Legos. Your on-call butler will bring your Lego-obsessed child their very own set so you and the family can bond over some truly imaginative building!
This red check shirt is a perfect addition to any outfit truly fit for the cool Irish weather.
And when you're travelling, remember to pack right!
For any domestic or international trip, it's crucial to pack correctly.
Whether traveling to France or knowing how to pack the perfect diaper bag, we at Catimini intimately understand the parental experience. See our blog for more tips on dressing, preparing for travel, and more!